Clear and Bright (seimei 清明)
The Swallows Arrive (tsubame kitaru 玄鳥至)—Season 13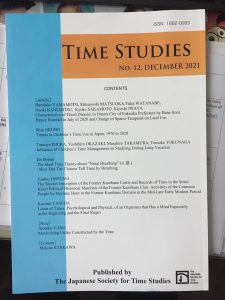 Pretty soon we'll have our last look at the cherry blossoms in full bloom.
This year we've been blessed with fine weather, so beautiful cherry blossoms could be seen all over the country.
We were finally able to send out the latest edition of the JSTS journal, Time Studies No. 12 (Jikangaku kenkyū 時間学研究), even though we're already in to the new academic year.
In due course, it should be arriving into your hands, so please be on the lookout.
The payment slip for renewing your membership will also be included with the journal, so please be sure to renew your membership.
Thank you,
—JSTS